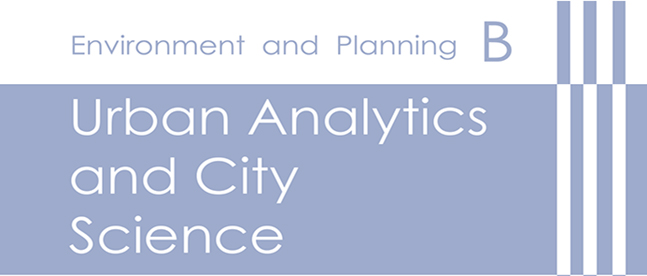 Gold Open Access with option
JOURNAL
Code: J149-2021-EPB
Posting date: 17/01/2021
Environment and Planning B | Urban Analytics and City Science
ISSN (print): 2399-8083 | ISSN (online): 2399-8091
Aims and Scope
Environment and Planning B | Urban Analytics and City Science is an international, multidisciplinary journal focused on the application of quantitative, computational, design and visual methods to the spatial and morphological structure of cities and regions. Areas of methodological interest include geocomputation, spatial statistics, geographical information science, computational modelling, visualisation, agent based modelling, crowdsourcing, big data, optimisation, and urban analytics. Papers are invited that provide empirical evidence for understanding, planning or theorising how urban systems and processes emerge. We welcome papers that show how formal models can be used to explore how cities and their elements behave, reproduce, evolve, or impact upon urban forms and functions, and on the livability, equality and sustainability of cities. Papers on topical themes such as complexity theory, smart cities, and urban science are encouraged.
Review process
The Journal adopts double-blind peer review process
Topics
Anthropogenic Impacts, Artificial Intelligence, Augmented Reality, Autonomous Systems, Big Data, Building Information Modelling (BIM), Built Environment, Circular Economy, City, Climate Change, Computational Methods, Criticism, Data Analysis Processes, Data Sensing and Analysis, Decision Support Systems, Digital Modeling, Digital Technologies, Dynamic Models, Ecosystems, Enabling Technologies, Environment, Environmental Assessment, Environmental Impact, Environmental Sciences, Environmental Sustainability, Future Developments, Geographical Information System (GIS), Green Cities, Green Economy, Green Infrastructures, Green Mobility, Green Policies, ICT, Innovative Applications, Innovative Approaches, Interdisciplinary Approach, Internet of Things (IoT), Knowledge Process, Land Use, Methodology, Modeling, Monitoring, Multi-scale Analysis, Natural Environment, Planning, Process, Process Innovation, Process Management, Process Modeling and Simulation, Redevelopment, Resilience, SDGs 2030, Smart Cities, Smart Grids, Smart Infrastructure, Smart Mobility, Smart Systems, Social Impact, Social Sustainability, Sustainability, Sustainable Cities, Sustainable Design, Sustainable Development, Theory, Urban Areas, Urban Design, Urban Development, Urban Infrastructures, Urban Landscapes, Urban Planning, Urban Regeneration, Urban Studies & Planning, Urban Vegetation, Virtual Reality
Publisher
SAGE Publishing
Publishing date
January, Febraury, March, May, June, July, September, October, November
Editor in Chief
Mike Batty
Indexed By
Clarivate Analytics: Current Contents – Social & Behavioral Sciences; Clarivate Analytics: Social Science Citation Index; EBSCOhost; PubMed: MEDLINE (selectively indexed); SCOPUS.
APC
Info at: journals.sagepub.com/author-instructions/EPB#OpenAccess